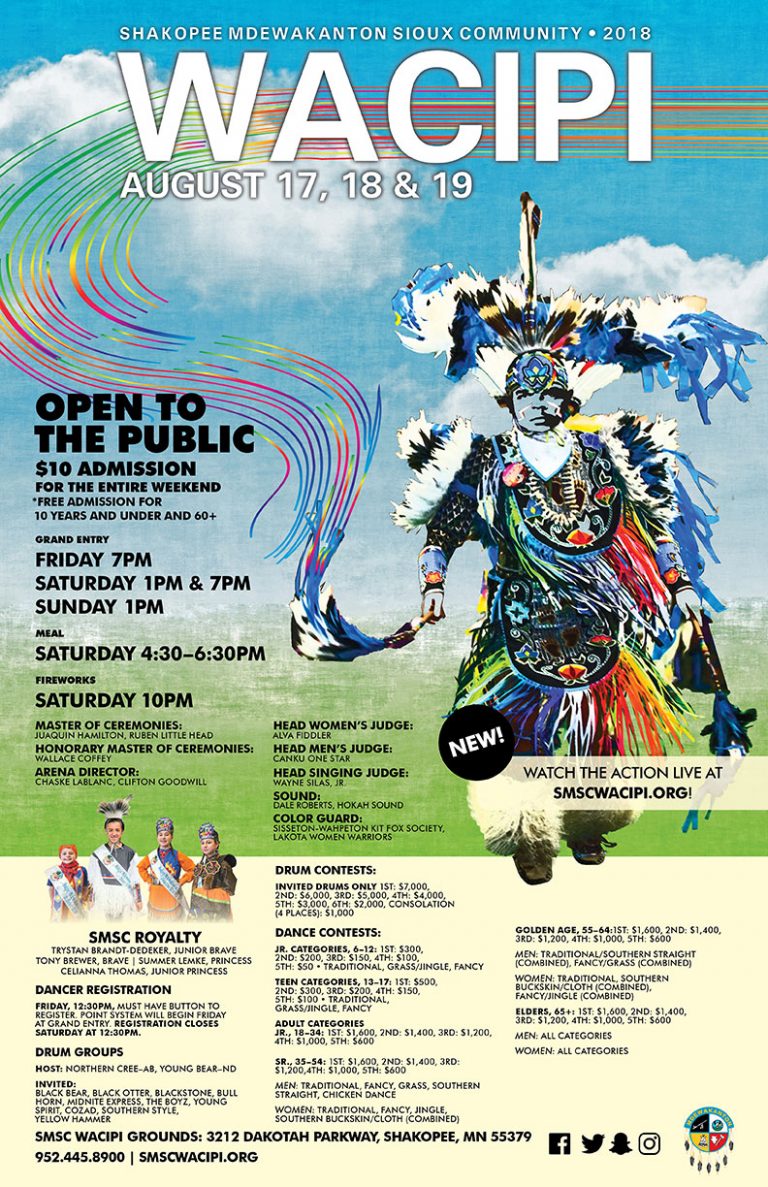 2018 Wacipi
August 17, 18, & 19
As the sun began to set on a balmy Friday evening, nearly 1,000 dancers, 12 drum groups, and thousands of spectators congregated for a weekend of tradition and togetherness at the annual Shakopee Mdewakanton Sioux Community (SMSC) Wacipi, held the weekend of August 17-19, 2018, in Shakopee, Minnesota. The SMSC's annual Wacipi kicked off with a flurry of motion, colors, and smiling faces, as the drums provided a strong, steady pulse to a celebration that would last well into the night and the days to follow.
Dancers and singers traveled as far as Florida and Alberta, Canada, to compete in what has become one of the largest powwows in the Midwest, attracting thousands of visitors to the rolling hills of Prior Lake each year. Throughout the weekend, visitors witnessed the power of the dances, enjoyed Indian tacos, bison burgers, shaved ice, and other delicious fare, and perused dozens of craft stands offering unique gifts, clothing, and other Native American-made items.
This year, even those who were unable to make the trip out were able to enjoy the sights and sounds from afar through the Community's new livestreaming technology, which aired all the action through live video on the SMSC's Wacipi Facebook page and website, smscwacipi.org.
Visitors to Mall of America were treated to a special preview of Wacipi weekend during an exhibition performance leading up to the SMSC's biggest event of the year on Thursday, August 16. Featuring two Grand Entries and a Men's Fancy War Dance competition between Northern and Southern dancers, this year's Wacipi Exhibition turned the heads of many mall-goers and helped generate excitement for the main event.
Both of the Grand Entries were led by the Sisseton-Wahpeton Kit Fox Society and the Lakota Women Warriors. In addition to the Grand Entries and special dance competition, time was set aside to honor both Native and non-Native veterans from all branches of the military and thank them for their service. Throughout the exhibition, spectators were given explanatory information about dance styles, regalia, and the dancers and tribes involved, and were invited to join in the dancing at the close of each Grand Entry.
Featured Staff & Guests
Head Staff:
Master of Ceremonies: Juaquin Hamilton, Ruben Little Head
Honorary Master of Ceremonies: Wallace Coffey
Arena Director: Chaske LaBlanc, Clifton Goodwill
Head Women's Judge: Alva Fiddler
Head Men's Judge: Canku One Star
Head Singing Judge: Wayne Silas Jr.
Sound: Dale Roberts, Hokah Sound
Color Guard: Sisseton-Wahpeton Kit Fox Society, Lakota Women Warriors
Drum Groups:
Host: Northern Cree (Alberta), Young Bear (North Dakota)
Invited: Black Bear, Black Otter, Blackstone, Bull Horn, Midnite Express, The Boyz, Young Spirit, Cozad, Southern Style, Yellow Hammer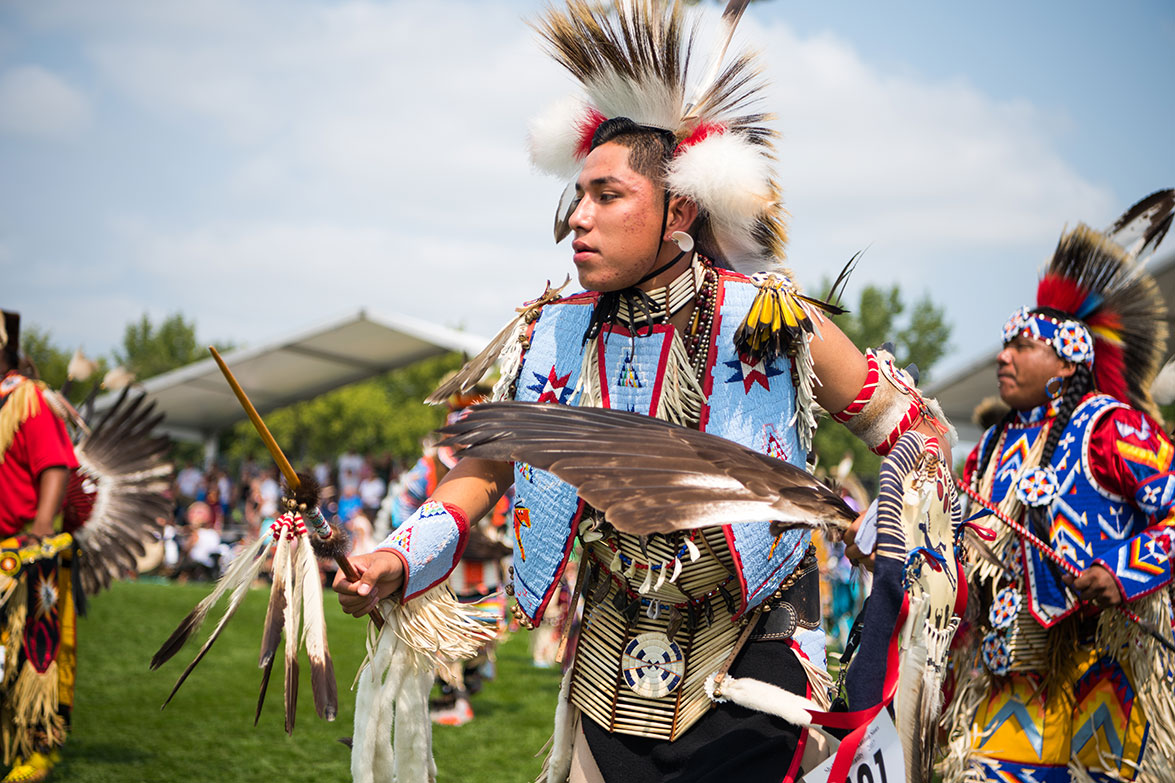 Dance Contests
Jr. Categories, 6–12:
Traditional, Grass/Jingle, Fancy
1st: $300, 2nd: $200, 3rd: $150, 4th: $100, 5th: $50
Teen Categories, 13–17:
Traditional, Grass/Jingle, Fancy
1st: $500, 2nd: $300, 3rd: $200, 4th: $150, 5th: $100
Adult Categories:
Men: Traditional, Fancy, Grass, Southern Straight, Chicken Dance
Women: Traditional, Fancy, Jingle, Southern Buckskin/Cloth (combined)
Jr., 18–34: 1st: $1,600, 2nd: $1,400, 3rd: $1,200, 4th: $1,000, 5th: $600
Sr., 35–54: 1st: $1,600, 2nd: $1,400, 3rd: $1,200, 4th: $1,000, 5th: $600
Golden Age, 55–64:
Men: Traditional/Southern Straight (combined), Fancy/Grass (combined)
Women: Traditional, Southern Buckskin/Cloth (combined), Fancy/Jingle (combined)
1st: $1,600, 2nd: $1,400, 3rd: $1,200, 4th: $1,000, 5th: $600
Elders, 65+:
Men: All Categories
Women: All Categories
1st: $1,600, 2nd: $1,400, 3rd: $1,200, 4th: $1,000, 5th: $600
SMSC Royalty
Celianna Thomas, Junior Princess
Summer Lemke, Princess
Tony Brewer, Brave
Trystan Brandt-Dedeker, Junior Brave