Ookiye Owas Iyekiyewica

k

iyapi
Recognizing All the Staff – Helping with the SMSC Wacipi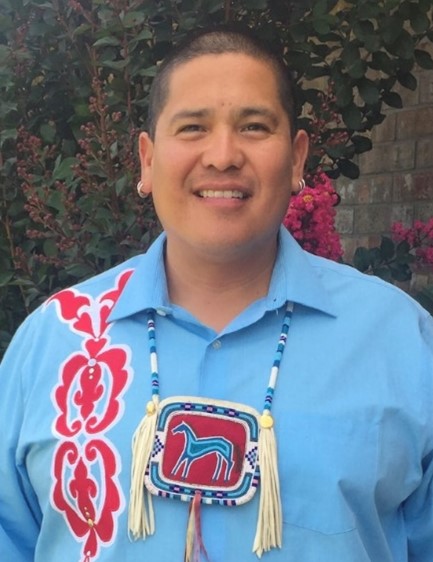 Juaquin Hamilton Youngbird:
Master of Ceremonies
The Shakopee Mdewakanton Sioux Community welcomes Jauquin Hamilton Youngbird to the 2023 SMSC Wacipi as Master of Ceremonies.
From Juaquin Hamilton Youngbird:
Juaquin Hamilton Youngbird is an enrolled member of the Sac and Fox Nation. He also represents the Cheyenne, Pawnee, Otoe- Missouria, Kiowa, Apache, & Tonkawa Tribes. He currently resides in Shawnee, Oklahoma with his family.
With an introduction into the arena at an early age, he has always carried a love for his culture and traditions.
Over the years, he has also held many different head staff positions including Master of Ceremonies at powwows throughout the United States and Canada.
Juaquin gives thanks to the creator for all the blessings he has received throughout his life and would like to extend his gratitude to the committee for asking him to serve as Master of Ceremonies for this year's powwow. He would also like to wish his friends and relatives an enjoyable experience at this year's celebration.
Ketepi, (Thank you)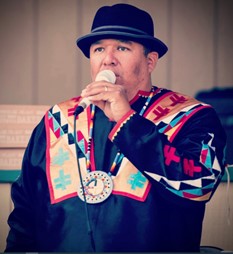 Whitney Rencountre:
Master of Ceremonies
The Shakopee Mdewakanton Sioux Community is pleased to welcome Whitney Rencountre back to the Arena at Master of Ceremonies for the 2023 SMSC Wacipi.
From Whitney Rencountre:
Whitney Rencountre II is Hunkpati Dakota from the Crow Creek Sioux Tribe and is the CEO of the Crazy Horse Memorial. He is also the co-founder and official emcee of Social Distance Powwow, with 300,000 members in over 100 countries around the world. In 2017, Rencountre was named one of 605 Magazine's South Dakota Young Leaders. He was also a 2019 Honoree of the Western South Dakota Child Protection Council. Rencountre is the former Chairman of the South Dakota Humanities Council and Visit Rapid City. For 11 years, he was the Director of the Ateyapi Program, a culturally based mentoring program working with over 1,000 students each year in the Rapid City Area School District.
Rencountre has served as emcee for the following celebrations: Black Hills Powwow, United Tribes International Powwow, SMSC Wacipi, Prairie Island Dakota Wacipi, Four Bears MHA Powwow, Lower Brule Powwow, Mosquito First Nation, Summer Solstice Powwow, University of Oklahoma Powwow, Lumbee Nation Powwow, Meherrin Nation Powwow, Indio California Powwow, Black Hills State University Powwow, Virginia Tech Powwow, UC Berkeley Powwow, University of Oklahoma Powwow, University of South Dakota Powwow, University of Denver Powwow, University of Mary Powwow, South Dakota Indian Education Conference, United Tribes Tribal Leaders Summit, and the Lakota Foods Summit.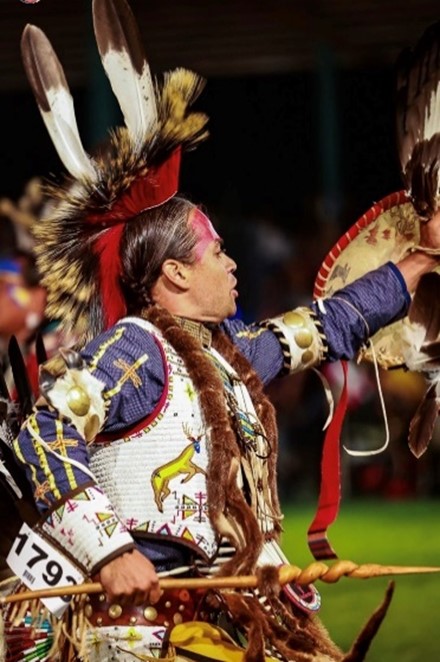 Yahsti Perkinskiller:
Arena Director
The Shakopee Mdewakanton Sioux Community is pleased to welcome Yahsti Perkinskiller back as Arena Director for the 2023 SMSC Wacipi. Perkinskiller served in the same role at last year's event and previously served as Head Men's Judge at the SMSC Wacipi.
From Yahsti Perkinskiller:
I've been dancing since before I can remember. My father, Vernon, brought us all over powwow country, to enjoy and share this way of life with friends we call our extended family. As time went on, my travels led me to my wife, Lady. Seventeen years later, life has come full circle as we now take our children across powwow country, so they can enjoy this way of life.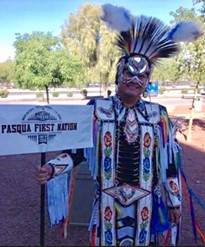 Clifton Goodwill:
Arena Director
Clifton Goodwill makes his return to the SMSC Wacipi in 2023 as Arena Director. The Shakopee Mdewakanton Sioux Community proudly welcomes him back to the event.
From Clifton Goodwill:
Greetings family and friends! My name is Clifton Goodwill. I am from the Ojibwe, Cree, Lakota, and Dakota Nations. I am originally from the Pasqua & Standing Buffalo First Nations of Saskatchewan, Canada but currently reside in Reserve, Kansas. I would like to sincerely extend in appreciation my heartfelt gratitude to the 2023 SMSC Wacipi Committee for inviting me to serve as this year's Arena Director. I wish everyone the best of luck in both song and dance, but most of all I wish everyone to have fun and enjoy one another! Thank you.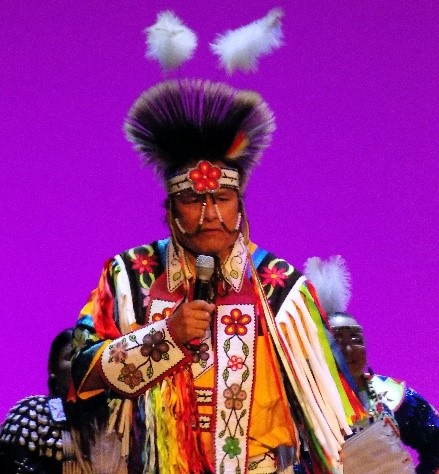 Gabe Desrosiers:
Head Singing Judge
The Shakopee Mdewakanton Sioux Community is pleased to welcome Gabe Desrosiers to the 2023 SMSC Wacipi as Head Singing Judge.
From Gabe Desrosiers:
Gabe Desrosiers (Misko Ginew) is a highly respected and well-recognized Anishinaabe singer, dancer, and educator. A first speaker of Anishinaabemowin born and raised in Lake of the Woods, Ontario, Desrosiers was taught the ancient life ways and language of his Anishinaabe ancestors. He identifies himself as being from the Bear Clan of the Anishinaabe nation. As a result of his traditional upbringing, Desrosiers was taught the sacredness of songs, stories, and prayers. As a young child, he took special interest in learning songs and began singing at an early age.
Ultimately, uniting his multiple strengths, Desrosiers serves as an ambassador of indigenous life ways. As an educator, he is strongly committed to fostering intercultural understanding through song, dance, and Anishinaabe language, education, and instruction.
Desrosiers is an instructor at the University of Minnesota, Morris, where he also earned a bachelor's degree in Native American studies. He then earned a master's degree in education with an emphasis in Indigenous language revitalization from the University of Minnesota Duluth. He is currently pursuing his doctorate in teaching and learning with a focus on Indigenous education from the University of Minnesota Duluth.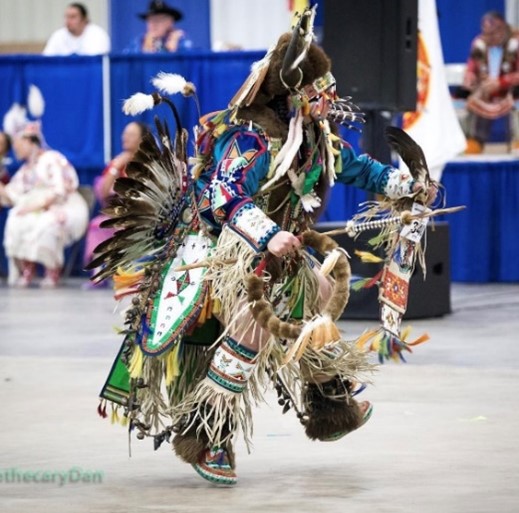 John Richard:
Head Men's Judge
The Shakopee Mdewakanton Sioux Community is pleased to welcome John Richard to the 2023 SMSC Wacipi as Head Men's Judge.
From John Richard:
Hau mitakuyapi, Peji Hota Hoksila emaciyapi yelo, wagmiza wakpala el wablawa yelo. Chante ma wast'e na wiyuska waciyanke lo.
Greetings friends and relatives. My name is John Richard, I reside in the PassCreek District in the Corn Creek Community area of the buffalo pasture, north of Allen, South Dakota on the Pine Ridge Reservation. I am very honored and humbled to be called upon to serve as the Head Men's Judge for this year's SMSC Wacipi. Growing up amongst the powwow circle, I have danced grass, fancy, and traditional from tiny tots to junior boys on into adults. I always enjoyed completing the summer celebrations at the SMSC Wacipi before heading back to school and work. I obtained a bachelor of science degree in elementary education from Haskell Indian Nations University with aspirations of continuing my path of education to emphasize special education. After spending three years working with Project AWARE/ SAHMSA (a trauma informed culturally based awareness implementation into tribal schools at American Horse School), I have transitioned into the position of Youth and Family Specialist at Thunder Valley CDC.
I believe that amongst education, cultural identity is the foundation of flourishing in the two worlds we exist in as Indigenous people. As an educator and spiritual leader, I advocate for our traditional ways of life and ceremonies. When I am not in the powwow circle, I am a helper at many sun dance lodges and lead my tiospaye's lodge. Throughout the year, I also put forth efforts of creator's works in the Native American Church; peyote way of life.
For generations to come, it is up to us to keep the spirit of our ancestors' traditions and teachings alive. There is a spirit of good health and wellness within the song and dance in celebrating life at the Wacipi Oyanke. Continuing to dance and sing for the youth to have a pathway and outlet to protect them on the red road of life. Building resilience and encouragement to all relatives as we face many adversities as Indigenous peoples. I hope everyone has a blessed weekend with relatives and friends near and far and come home to good thoughts and memories of the SMSC Wacipi to last through the upcoming year, wicozani wokiya yuha na wopila tanka iciciya.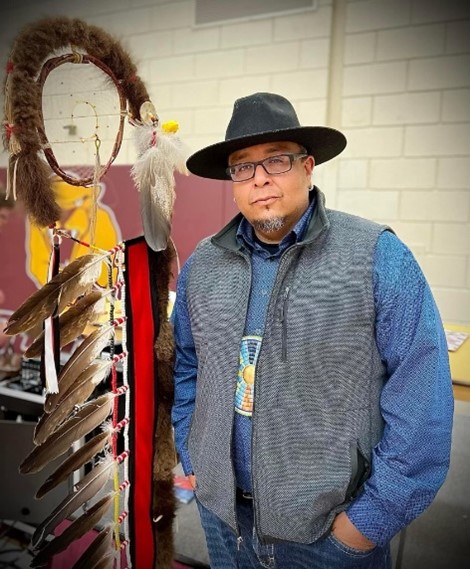 Redwing Thomas:
Master of Ceremonies
The Shakopee Mdewakanton Sioux Community looks forward to welcoming Redwing Thomas back to the Arena as Master of Ceremonies for the 2023 SMSC Wacipi.
From Redwing Thomas:
H'upahu Duta (Redwing Thomas) comes from the lands of the Isanti Dakota Nation of Santee, Nebraska. Thomas serves as the Cultural Director for the Isanti Community School and the MS/HS Dakota Language Teacher. He is also the Cultural Advisor/Language Instructor for the Nebraska Indian Community College in Santee.
H'upahu Duta is and has been a long-time spokesman/advocate of the Dakota language. He is known throughout Indian Country for teaching language, sharing cultural concepts, promoting Dakota Life­Ways, and motivating young people to be proud of who they are.
When he's not holding the mic as an Eyapaha (Master of Ceremonies), H'upahu Duta travels the United States and Canada with the Mato Pejuta drum group. He loves to sing, he loves the beauty of music, he loves to dance, and most of all he loves his family. He is a proud father of seven and an overjoyed grandfather to an extremely special grandson.
Hokah Sound:
Sound
The Shakopee Mdewakanton Sioux Community is excited to once again welcome Hokah Sound and Dale Roberts to the SMSC Wacipi Grounds in 2023.
From Hokah Sound:
Hokah Sound is an independent Native family owned and operated sound company out of Atwood, Oklahoma. We have been in the sound business since 2007. We are very fortunate to be in this business, lucky enough to provide the sound for all the major powwows throughout the United States and Canada.
We are fortunate to have friends like Larry "Amik" Smallwood and Mack Kingbird, thanks to the two of them for giving us the opportunity to show what we can do.
Our service includes the central sound as well as FM radio for those who camp and from time to time we advertise by live feed. We want to say thank you to SMSC Wacipi Committee for giving us the opportunity to provide the central sound for the celebration for many, many years.
And to each and every one of you, thank you for the continued support.
Yakoki,
Dale Roberts
Hokah Sound

ICreeAz:
Tabulation
ICreeAz will be back as the official tabulation service for the 2023 SMSC Wacipi, and the Shakopee Mdewakanton Sioux Community is excited to welcome them back to the SMSC Wacipi Grounds for this year's gathering.
From ICreeAz:
Mike Manichanh and Ray Seto have been auditing and tabulating for more than 50 years combined ranging from small C-stores to federal government facilities. When Ray was travelling around the powwow (wacipi) circuit with his family, he noticed the prize money was going higher and higher, and contestants were coming from long ways to compete for a piece of the prize money. There were maybe one or two tabulating services that were able to help the tabulating needs. At that time, tabulators were using paper ballots to record the scores. We felt we could help out by providing an electronic tabulating solution, which minimizes any potential human errors, expedites the reporting process and in turn speeds up payouts. This is how iCreeAzn, the only fully digital tabulating powwow (wacipi) service provider, was formed.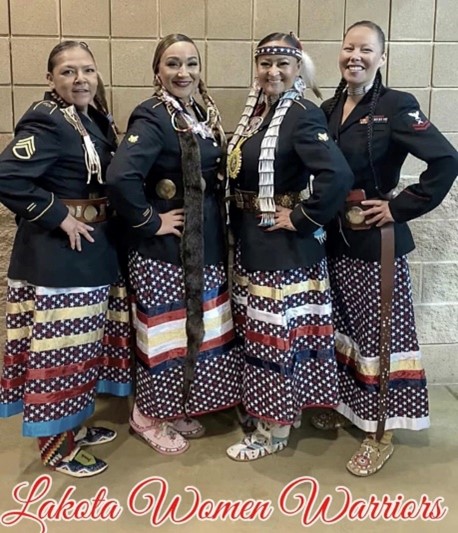 Lakota Women Warriors:
Color Guard
The Lakota Women Warriors have been a mainstay at the SMSC Wacipi for years and the Shakopee Mdewakanton Sioux Community excitedly welcomes the all-Native, all-female veterans color guard back in 2023.
From the Lakota Women Warriors:
The Lakota Women Warriors color guard was a dream and idea in 2012. In October of 2024, the dream will celebrate a decade or realization. The Lakota Women Warriors are made up of female veterans from the Lakota, Dakota, and Nakota but have welcomed all Native American women veterans from across the nation and from other tribes.
Each member of the Lakota Women Warriors has her own story; she represents her individual branch of service by wearing their service coats with their own unique regalia, and they represent the era in which she has served. All different but in many ways the same.
The Lakota Women Warriors have the common goal of working together and being positive role models for all Native American youth, especially young girls with aspirations of serving their country. They dance for all warriors past and present and are very supportive of the women who have served. Women have historically been overlooked in the military and the group hopes to play an important role in getting women warriors recognized. Amongst serving as positive role models, the Lakota Women Warriors want to recognize all warriors, past and present.
The Lakota Women Warriors are the only known all-Native, all-female color guard to present colors for two NFL teams (Kansas City Chiefs and Minnesota Vikings), an NBA team (Minnesota Lynx) and will also present colors for an MLB team (Kansas Royals).
In 2022, the LWW traveled to Atlanta, Georgia to be part of the Marvel Comics "Echo" which will stream on Disney+ in the summer of 2023.
The Lakota Women Warriors are also representing Indian Country in the documentary "Saving 22." The documentary focuses on veteran suicide as well as challenges that face all veterans. The documentary is being shown nationwide and will be submitted to the GI Film Festival this year.
The group continues to support Indian Country by participating in events and providing community support for various functions as well as traveling nationwide and Canada.
"I am a woman. I served in the military. I am a veteran."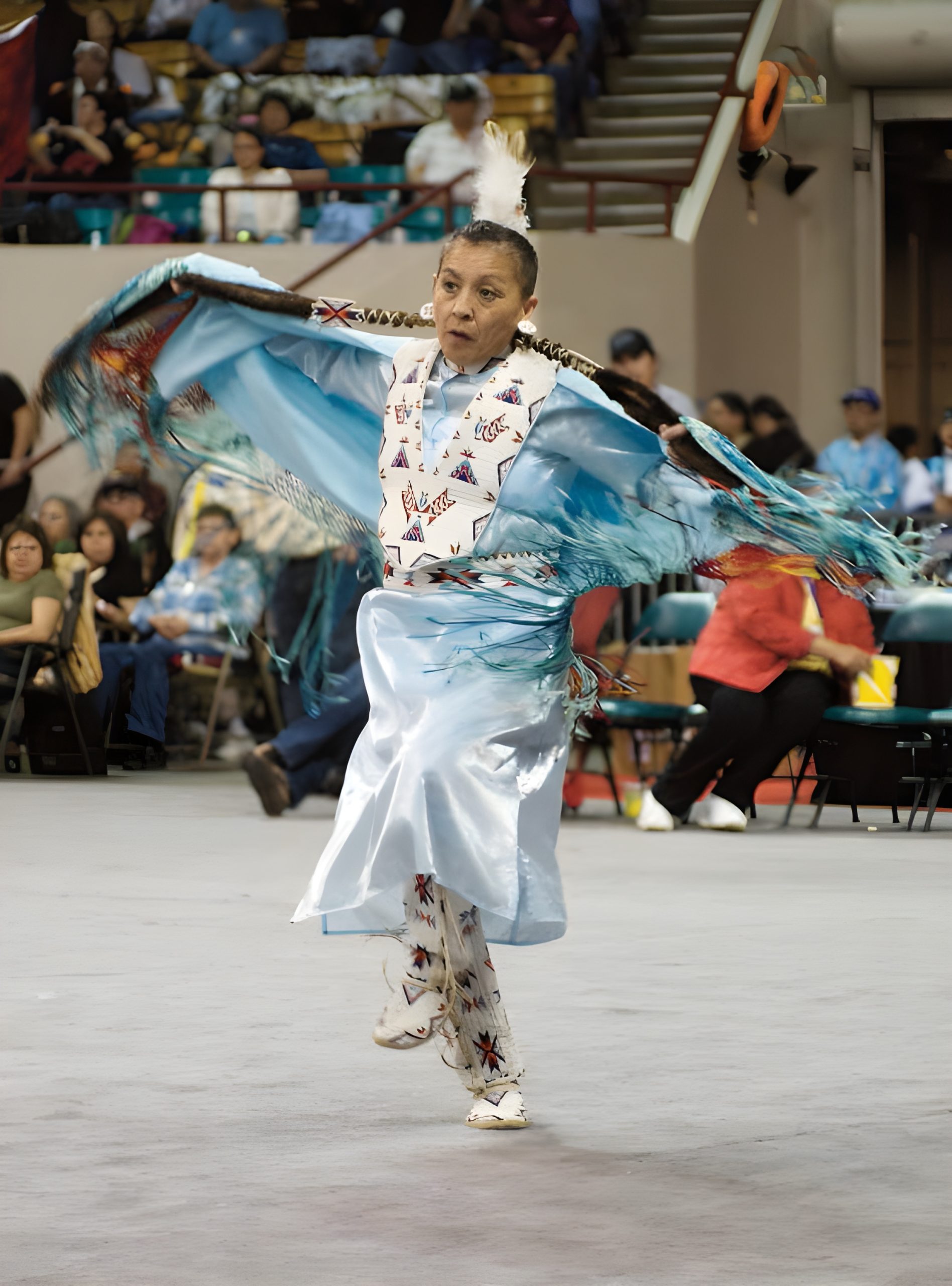 Grace Her Many Horses: Head Women's Judge
A former women's fancy shawl winner at the SMSC Wacipi, Grace Her Many Horses will be welcomed back to the Arena by the Shakopee Mdewakanton Sioux Community in 2023 when she serves as Head Women's Judge.
From the Grace Her Many Horses:
Grace Her Many Horses is an enrolled member of the sovereign nation of the Oglala Lakota, Pine Ridge Indian Reservation. She graduated from Augustana University in Sioux Falls, S.D., with a Bachelor of Science degree in criminal justice. With her degree, she pursued a career in law enforcement. Her Many Horses has been employed in law enforcement for the past 26 years as a Patrol Officer, Criminal Investigator, Supervisor Special Agent, Captain, and Chief of Police. She has enforced Tribal and federal laws on the Pine Indian Reservation in South Dakota, the Rosebud Indian Reservation in South Dakota, the Rocky Boy Indian Reservation in Montana, and the Fort Berthold Indian Reservation in North Dakota. Her specialty in the law enforcement field is child abuse and Murdered and Missing Indigenous Women.
Her Many Horses has the privilege and honor of holding two Lakota names. She was given the name of Sacred Cedar Woman from her grandfather, the late Dawson Has No Horse. She was also given the Lakota name, Woman Who Carries the Law, from her Hunka Grandmother, the late Christine Dunham. Her Many Horses was adopted by Patsy and the late Kenny Gopher and was given the Cree name of White Eagle Woman. She was dressed by the late Tomasina Moore's daughters, Tracy and Sidna, in Osage style clothing and taken into the Mary Osage Green family.
Her Many Horses was raised on the Rosebud Indian Reservation along with her five brothers and two sisters. She and her brothers and sisters, Chico, the late Randy, Emil, Cleve, Steve, D'Ann, and Kathi, with the support of their parents, Lorna and the late Leo "Sioux Boy" Her Many Horses, became fancy dancers on the powwow circuit. She has been and continues to be a Woman's Fancy Shawl dancer. When she began as a fancy shawl dancer, she had the privilege of learning, watching, and attempting to dance like the late Gladys Jefferson, the late Rita Metcalf, and the late Mert Mesteth-Howard.
Invited Drum: Meskwaki Nation
Meskwaki Nation is a northern style singing group from Tama, Iowa. The group first formed in 1994, when they traveled to a powwow in Red Lake, Minnesota. Since then, they have been traveling all over the United States and Canada singing at countless celebrations. The members come from three other main singing groups. The Red Earth singers and Bear singers of Tama, Iowa, and the Little Soldier singers of Mayetta, Kansas.
This group of young men have all had their teachings and learning of the ways of the Drum from their grandfathers, fathers, and uncles. Today, they continue to carry on these teachings and share their gift of songs and singing with the people. They love to make the people feel good and make the dancers dance through their drum and songs.
Meskwaki Nation would like to thank the committee for honoring them as one of their invited drums this weekend. They wish everyone a good time!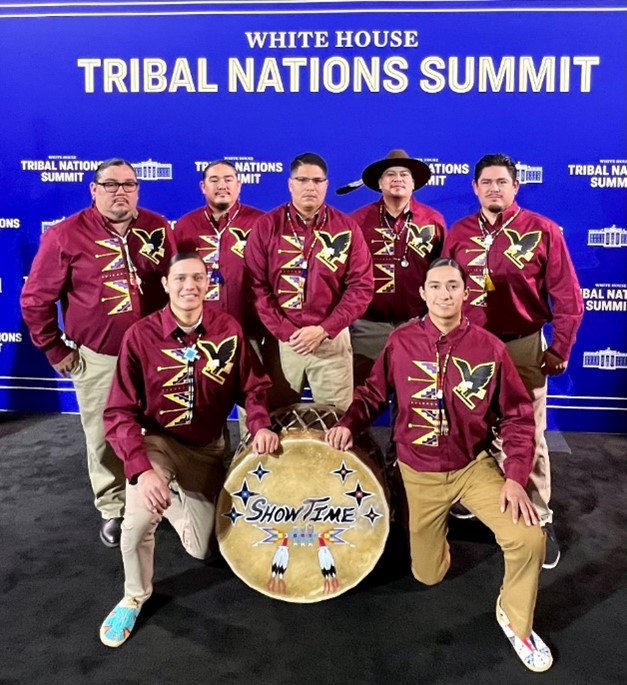 Invited Drum: Showtime
Established in 2015, ShowTime Singers was born on the Pine Ridge Indian Reservation, representing their Lakota and Cheyenne Nations. It was a shared dream to honor their people past, present and future by creating a powwow style singing group.
Throughout the years, many singers of many tribal nations have contributed to the drum group. ShowTime has traveled across North America to many powwow celebrations and educational events. In April of 2022 at the Gathering of Nations Powwow held in Albuquerque, ShowTime competed and was crowned World Class Singing Champions winning 1st place! This accomplishment the achieved by a singing group from South Dakota. A few months later, being filled with gratitude for the gift of singing and the gift of the drum, ShowTime Singers made history once again by establishing the first of its kind scholarship named the ShowTime First Nations Scholarship Fund. The drum group awarded 6 recipients who are seeking higher education. Later, in the fall of 2022, ShowTime Singers was invited to sing at the White House Tribal Nations Summit in Washington, DC.
ShowTime is very proud and humbled for the journey the drum has provided for its singers, families, and communities!